Wire Mesh Belt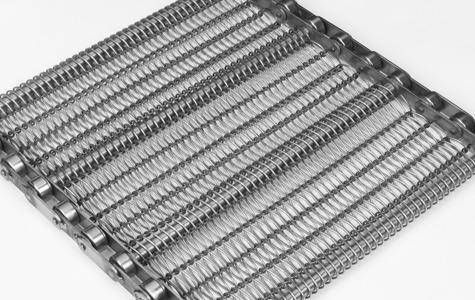 Umda Enginering is a leading Wire Mesh Belts Manufacturers in India. We are a paramount firm that is engaged in manufacturing and supplying a wide range of wire mesh belts. Wire Mesh belts are ideal conveyor belts used for positive drive and light transfers. These are metal conveyor belts used for a variety of applications. For many more processes in various industries, mesh belts are suitable. With a wide expertise in this domain, we are able to offer a superior quality of mesh belts. Corrosion resistance, Sturdy construction, low maintenance are some of the basic features of wire mesh belts for which these are highly demanded in the market.
Umda Enginering- leading Wire Mesh Belt Manufacturer in India, has an experience of more than 35 years in this manufacturing field. We make use of fabricated, developed and supreme quality basic material. We also make use of optimum class tools and machinery at our end, these are in tandem with the latest market advancements and developments taking place in the market. Along with this, these wire mesh belts are in tandem with the quality norms and quality standards set by the industry, our intellectual crew of professionals makes sure of that.
As we are the best Wire Mesh Belt Manufacturer in India, we manufacture the large range of products our customers. Some of the products offered by our organization comprise Metallic Wire Conveyor Belts, Energy Efficient Lehrs, Metallic and mesh belts, Metallic and wire conveyor belts, Lehr belts, Balance weave belts, Rod reinforced belts, Chain edge belts, Closed pitch belts and much more.
We use superior quality raw materials and modern machinery that are obtained from the reliable vendors of the market, this is how all our products are designed and developed. Widely acclaimed by the customers these wire mesh belts are highly known for their features like dimensional accuracy, corrosion & abrasion resistance, sturdy construction, and low maintenance. As per the specifications laid down by the customers, these products can also be customized.
Known as Wire Mesh Belt Manufacturer in India, we have adopted a modern infrastructure, which helps us in making the products in bulk to meet the demands of the market. This is installed with the latest technology and machinery that are required for making the products as per the specifications laid down by the customers. To manage this unit, we have hired a team of expert professionals, which uses all the available resources for fulfilling the demands and needs of customers. Our products are checked multiple times on various parameters to ensure permanent flawlessness by our team of expert quality controllers. Owing to our ethical business practices, client-centric approaches and market leading prices, we are able to muster a huge clientele across the market.
You only have to consider us instead of having to contact multiple manufacturers and suppliers for your needs. We are eager to amalgamate your needs in one order as we are topmost Wire Mesh Belt Manufacturer in India.